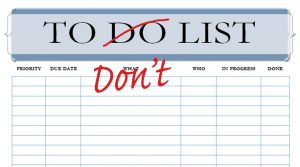 Congratulations! You've made the decision to sell your home and are going to be putting your home on the market.  Hopefully, your next step will be to choose an awesome REALTOR to give you a customized list of what to do next.  However, for those of you who want to jump to checking off your to-do list, here's some things not to do to help you get started:
#1 Don't Over-Improve
There's lots of articles about how to make improvements to your home and sell for top dollar. Updating appliances and painting can offer great returns on investment. However, before you start to rip out the kitchen, you'll need to realize how much that will cost and what you can expect in an increased sale price. (Hint – it's different for every home!) You may be looking at a break even for your investment or worse.  It's also important to avoid making improvements that are hyper-specific to your tastes.  For example, not everyone wants a home theater and a totally customized game room complete with a wet bar.  What if your buyers are a family that want a play room for their kids? They'll cross your home off their list and choose something that they won't have to re-do.
#2 Don't Over-Decorate
Over-decorating is just as bad as over-improving.  You may love your ornate, Mediterranean-style décor complete with statues and several fountains, but it can also send potential buyers running in the opposite direction.  When getting ready to sell, you want to neutralize your decorating scheme so it appeals to as many buyers as possible.
#3 Don't Hang Around
This one is more for after you've put your home on the market and your agent calls to let you know they will be bringing buyers by this afternoon. So exciting! You put some fresh cookies in the oven and hang around with a big smile, ready to answer any questions that the potential buyers may have.  Right? Wrong! Buyers want to feel comfortable in your home, and not feel confronted by your in your space.  It makes them feel very awkward to be in your home trying to figure out if it will work for them or not if you're hovering over their shoulder.  Get out of the house (for a longer window that your agent gives you – remember, most buyers are looking at multiple homes at once so it can be hard to determine exactly what time they'll be there in advance!) or at least take a walk around the block or sit in the backyard.
#4 Don't Take Things Personally
This can be a hard one. Real estate is a business, but selling your home is very, very emotional.  You have a lot of memories tied into the house, and can feel that a negative comment about your home is a direct reflection on you.  Pretend you're a buyer as you walk through your home and see your house through their eyes.  Then, when a buyer says they need to replace your prized wood paneling with something more to their taste and send over a low offer, you'll be able to take it in stride.
For a customized list of how exactly to prepare your home for going on the market for sale, give The Gina McKinley Group a call at 480-355-8645 or email [email protected] today! We will be happy to meet with you to go over how you can have your home looking its best and get the most money for your home!