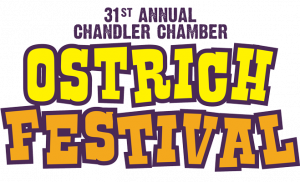 The famed Chandler Ostrich Festival will be held this weekend for the 31st year running! What started as a modest event downtown is now grown up into a full-fledged entertainment extravaganza.
More than just ostriches, the 31st annual Chandler Chamber Ostrich Festival will feature the world's largest bounce house, BMX Pros Trick Team shows, pig and dog races, Victoria Circus motorcycle and high-wire acts and numerous carnival rides.  The festival will also have over 100 hours of music with headliners like Flo Rida, The Commodores, and Andy Grammer.
While no ostrich races this year, the ostriches will be kept near the petting zoo for people to view and learn more about this strange-looking bird. The racetrack was done away with to make room for the 10,000 square foot Big Bounce America bounce house.  It's currently the Guinness World Record holder for the biggest bounce house and has obstacle courses, climbing walls, giant slides, basketball hoops, ball pits and other fun things for both children and adults.
Another new thing this year is the BMX Pros Trick Show, where skateboarders and BMX riders will perform a variety of stunts on a street ramp and half pipe.
The Ostrich Festival will be held March 8th-10th at Tumbleweed Park, located at 745 E. Germann Road.  Tickets and more information can be found online at www.OstrichFestival.com
For more information on what makes Chandler such a great place to live, give us a call at 480-355-8645 or email us at [email protected] today! We'd love to share other fun things to do and what makes the city we live, work, and play in so great.