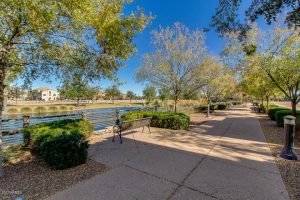 The Lakes at Annecy, or Val Vista Classic (as it's also known) is a beautiful gated community off of Val Vista Dr & Williams Field Rd.  Not only does it have an amazing location near the 202 freeway, but it's also right by the San Tan Village Mall with all of its things to do.  Great restaurants are less than a mile away (which can be a bit of a long walk for some, but perfect for us. We recommend Blue Wasabi, High Tide, & La Calabria if you haven't been) and Higher Grounds Roastery & Café is located just outside of the main gate.  On the inside, there's plenty of walking paths around several lakes and bridges, with tree lined streets, multiple community pools, basketball courts and playgrounds.  Trend Homes started building this community in 2007, featuring European style architecture with plenty of community green space outside your front door.  With a mixture of single family and townhomes, it was the premier lock and leave community.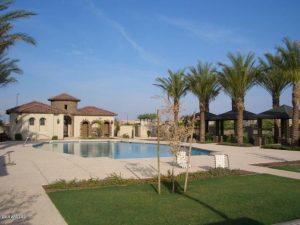 Alas, all was not perfect.  Trend Homes declared bankruptcy in early 2008 and was sold in May to Najafi Cos., a Phoenix-based private investment firm.  Like many communities at the time, the 930-home Lakes at Annecy sat mostly empty.  Other than the
completed community pools and spas, lakes and roads, there were only a handful of homes that were developed near the front and around the sides of community, leaving the middle and back of the lots mostly filled with dirt.  Sometime after, Ryland Homes acquired Trend's remaining assets at the end of 2012, but made no plans for continuing to build at The Lakes at Annecy although they finished some of Trend's other neighborhoods. Ryland Homes and Standard Pacific Corp, two of the largest home builders at the time, merged in 2015 to become CalAtlantic Homes.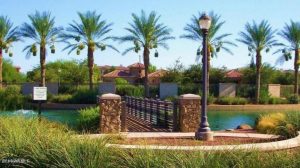 The latest to happen was that Lennar Homes announce last year that they were buying out CalAtlantic, although the merger won't be completed until February 2018.
The good news though, is that Lennar Homes is finally planning to finish out The Lakes at Annecy! They are taking the back section for Inspiration at Annecy, which features two-three bedroom townhomes, ranging from 1,053-1,465 sqft.  They're unique in the fact that everything is included in the home (no more being nickeled and dimed for upgrades) and the buyer has the choice of flooring and cabinet color (although if you want really upgraded flooring, there is a separate cost for that). Inspiration at Annecy is now for sale, and though they've not had their grand opening yet, have been selling pretty well.
Maracay Homes has also purchased 216 home sites in front of the community, and will be opening for sales in the fall of 2018.  Their plan is to offer homes ranging from 1,500 to 2,000 sqft. More news is to be announced.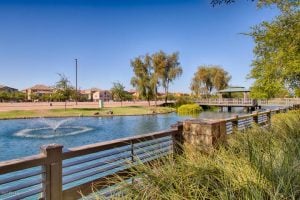 For more area news, or if you'd like to know more about The Lakes at Annecy, please contact The McKinley Group at 480-355-8645 or at [email protected] today!