Williams, the gateway city to the Grand Canyon, may be seeing major changes in the next 10 to 15 years. A $500 million land development plan by Kansas Development will include at least 1,000 homes and a theme park. Consequently, Williams will double as a close vacation retreat for Arizona residents, and another beautiful city in Northern Arizona to call home! With these changes, the city of roughly 3,500 people is sure to see significant growth.
About Williams
The city of Williams was established in 1882, and contains a rich historical district and outdoor activities galore. Described as a "Little town with a big heart" by Mayor John Moore, Williams is alive with frequent events for residents, which can be seen on their city Calendar. These events include concerts, car shows, monthly art walks, and more. In addition, foodies can find some of the best Mexican, American, and Italian cuisine among the best Arizona has to offer!
Housing Prospects
The expansive, 500-acre parcel set to house these new additions will include the 35-acre Gonzales Lake area. Anyone looking to snag one of 75 lakeside homes will want to follow the development of Canyon Gateway at Williams. Furthermore, these plans will include half-acre custom lots, 1,400 to 2,000 square foot production homes, and apartments bordering the I-40. Visitors and residents alike will enjoy the close proximity to Bearizona, the Grand Canyon, and upcoming amusement park all in one place! Needless to say, the landscape will provide great hiking, biking, golfing, camping, and fishing opportunities alike.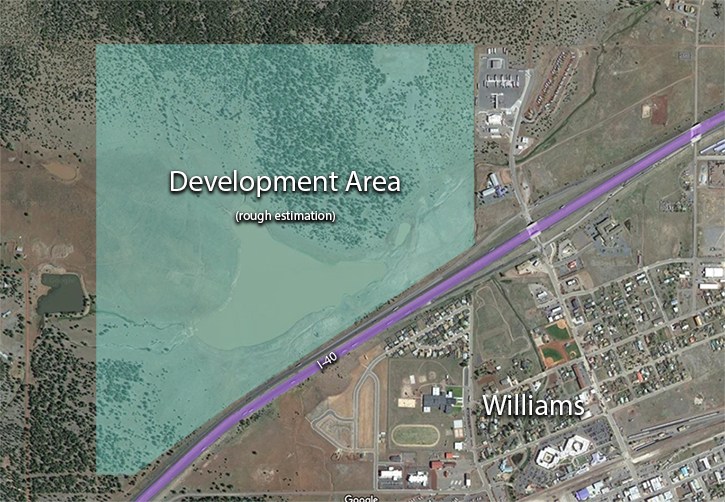 Amusement Park Talks
Another parcel of land is reserved for the amusement park as well as restaurants and a hotel. Lee & Associates, a real estate firm tasked with supporting the project, received correspondence from a group of previous Disney employees regarding the theme park. Although not guaranteed, negotiations between the two groups involved the idea of western theming. These talks also gleaned that there might not be huge rides, giving it a country fair-like feeling.
It will be exciting to see these future changes as they unfold. For now, you can read more about the Williams development project from the Phoenix Business Journal. If you're more interested in checking out local listings or you're thinking of selling your home, feel free to reach out! I'm here for you at 480-355-8645 if you have any questions or want to discuss the current market.