It has been a turbulent year for buyers and sellers alike. Many recent factors have contributed to the cost of securing a new home across the nation. These factors include sudden job changes, the need for new scenery, and unexpected changes to families' finances. As a result, there has been a large exodus of residents nationwide. Furthermore, competition between homebuyers has resulted in a seller's market.
What is the current real estate market landscape?
Currently, the cost of homes in the Phoenix metropolitan area are reaching new heights. Statistics from the Arizona Regional Multiple Listing Service have shown that listing prices of single family detached homes (SFD) are rapidly increasing. While the gap between buyers and sellers continues to grow, so will the prices.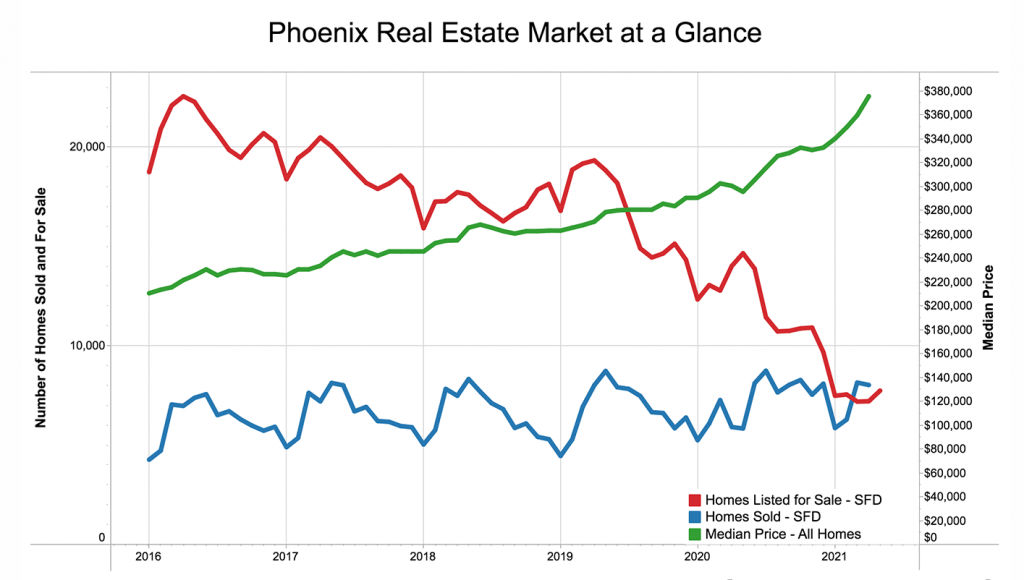 What are the effects of the current listing prices?
The most apparent effect is faster closing times. More statistics from ARMLS have revealed that the average home spent 32 days on the market in April, down from 51 in 2020. As far as mortgages are concerned, rates have decreased in recent years and remain low. Going into 2021, Fixed mortgage rates dropped to 2.65% for a 30-year fixed mortgage.
Is there an end in sight?
This trend will eventually plateau, as the market will not be sustainable if homes can no longer be purchased by the majority of buyers. From there, the number of buyers may decrease along with median listing prices. We can also expect the number of houses on the market to increase, if even a little bit, over the summer. However, only time will tell when the market will truly readjust.
With a housing market so competitive, it's now more important than before to have a good ally on your home buying journey. That's where I come in! Give me a call at 480-355-8645 and we can work together to ensure a smooth transition into your next home.