2021 has been a busy year for buying and selling alike. Consequently, home renovations have also been on the rise to increase property value or to improve homes after purchase. If you're looking to heighten returns on your investments while the market is still hot, here are some areas where renovations have been the most lucrative: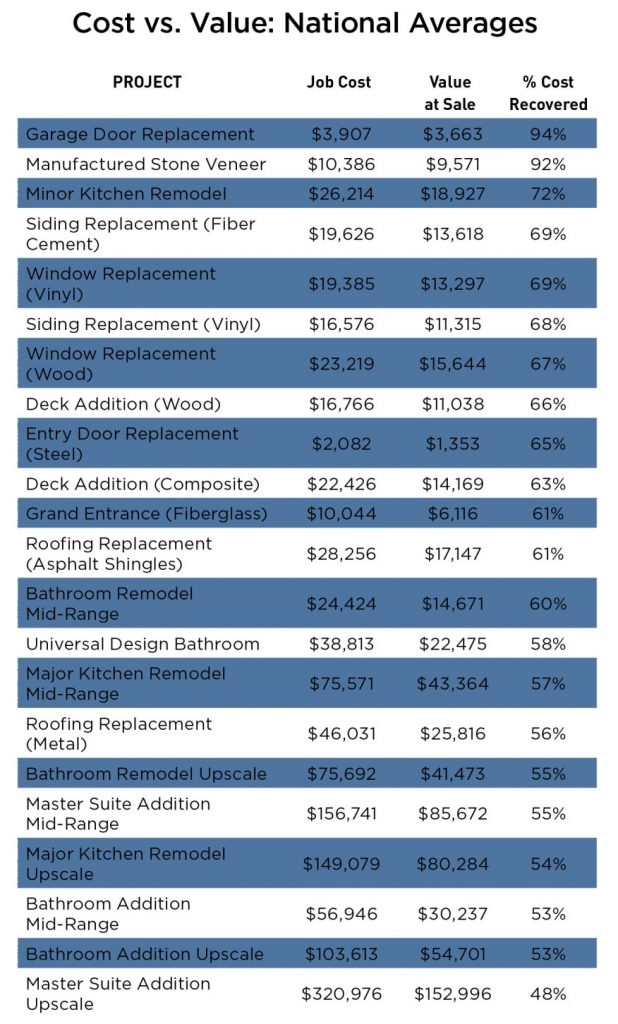 Table retrieved from RisMedia. Data retrieved from remodeling.
Disclaimer: These figures represent national averages, so costs may differ from typical Phoenix remodeling job prices. For example, a bathroom remodel would be closer to $15,000 for a Phoenix area track home.

From this table, we can see that some of the best returns for price include garage door replacement and manufactured stone veneer. The good news is that most of the top cost recoveries are for some of the cheapest jobs to complete! So you don't necessarily need to break the bank to improve the value of your home. Conversely, any additional rooms added to the home will be quite costly for the value they'll add. To illustrate, let's explore two different renovation scenarios that include two jobs each:
Garage Door Replacement + Manufactured Stone Veneer
Job Cost: $14,293
Value at Sale: $13,234
Median % Cost Recovered: 93%
Major Kitchen Remodel Mid-Range + Bathroom Remodel Mid-Range
Job Cost: $99,995
Value at Sale: $58,035
Median % Cost Recovered: 58.5%

As you can see, the first scenario offers a high recovery percentage with comparable value for cost. However, the cost of the second scenario is nearly double the value for little percentage of the cost recovered. But you shouldn't have to toss out any room remodeling dreams! It just means that one room and a few smaller jobs might be a more realistic set of projects to undertake, depending on your budget.
I hope that this data can help you decide on a remodeling budget as well as which projects you want to prioritize. Have any questions? I'm here for you! Please don't hesitate to reach out to me at 480-355-8645 so we can work together to make your home remodeling dreams a reality.