Credit is one subject that will always be important. No matter what your current financial situation is, you can start strengthening your credit now to help you down the line. Even though the world may feel like it's on pause right now, the situation will pass and, when it does, you'll be ready to view your credit situation with fresh eyes.
What's in a credit score?
We may have a ballpark idea of what is and isn't a good credit score, but what is this value comprised of exactly? The answer will differ depending on the model, and here are two of the most common models you'll see, based off of a score range of 300-850.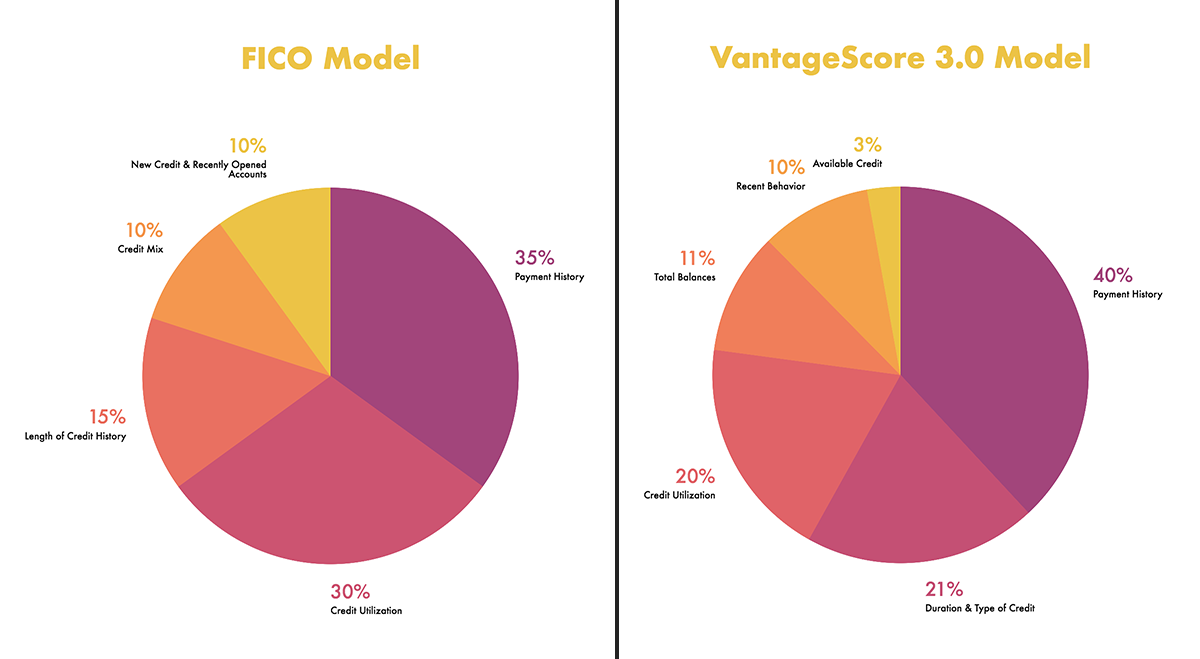 What is a good credit score?
If you want quick a refresher or are new to monitoring your credit, here are some ranges that will help you figure out where you're currently sitting:
600 or below: Needs work
600-740: Average
640 or above: Excellent
If your current credit score could use some improvement, fear not! Your score can always be increased, and here are some tips to help you along the way:
When in doubt, talk it out: If you're in a rough patch and notice it taking a toll on your ability to make payments, reach out! Lenders will typically be open to discussing changes to your current payment plan and being proactive could save you a lot of trouble in the future.
Avoid consumer debt: "Good debt" such as on-time mortgage payments will help your credit score, but try steer clear of racking up consumer debts with inflated interest rates.
Check your own credit report often: Running your own credit report will not have a negative impact on your score, however a lender check will. You can monitor your credit score for free with services such as CreditKarma, Credit Sesame, and Mint.
If you're tempted, close it:  If you've paid off a credit card and are tempted by that blank slate, close it! Otherwise, it pays to leave it open and use it for minor, recurring expenses such as gas for your car to build more credit.
I hope that this information can help you along the way no matter your situation. And, as always, I'm here for you! If you have any questions about your credit standing or its impact on your homebuying journey, feel free to reach out to me at 480-355-8645.