41247 N 95th Street in Scottsdale, AZ. Click here to view the listing!
Arizona luxury estates continued to go fast in September, only held back by demand outweighing the supply of available homes. This is especially true for buyers searching for homes over the $2 million price point. Let's take a look at some of the top sellers that marked the end of this year's summer season:
5316 E. Palomino Road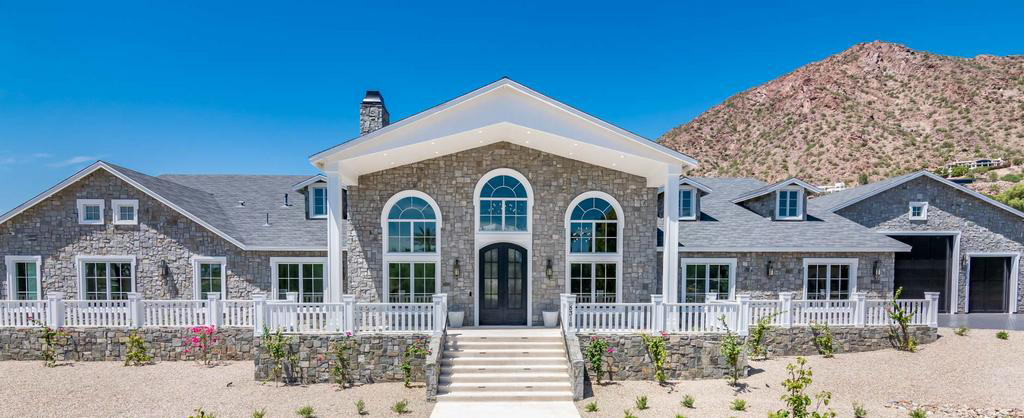 The newly constructed Phoenix home, featuring beautiful stonework and a crisp white trim, sold for roughly $6 million. The Hamptons style home features the same white trim on the interior in addition to sharp edges, vaulted ceilings, black accents, and marble tile. Its modern style and neutral palette captures a sense of sleekness and minimalism that makes it the perfect canvas for new homeowners.
Exploring the home further, a spectacular 1000-bottle wine room, wet bar, and intimate theater can be found.  Each of these areas contrast the bright white walls of the rest of the home, painted in a captivating, glossy charcoal that lets the natural wood and patterned marble really stand out.
Further, the surrounding lot bears the same carefully crafted, angular feel as the residence. Grass intertwined with stepping stones creates a pleasant diamond pattern, flanked by a quaint pool area and backdropped by rolling desert mountains. Complete with golfing greens, the estate is like its own luxury resort!
42764 N. 98th Place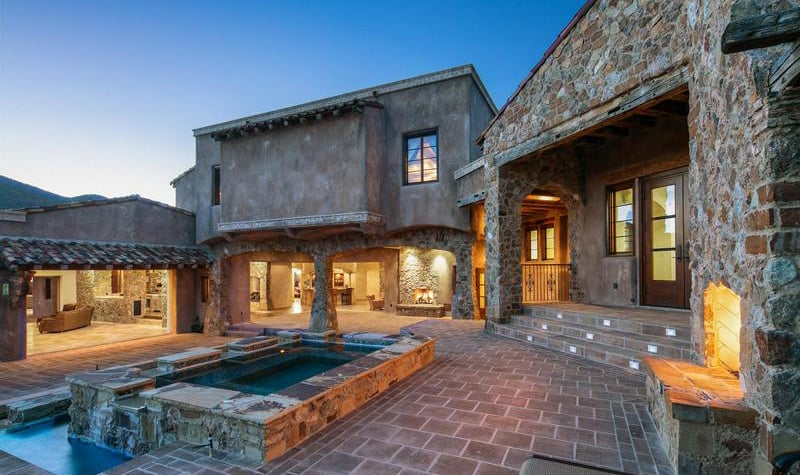 The top seller, 'Villa Paradiso', went for over a whopping $8 million, making it the top seller of September! The stunning Scottsdale home of about 11,000-square-feet was originally constructed in 2009. Its design, reminiscent of a classic European farmhouse, gives it a cozy and rustic quality. In addition, its sienna hues bestow a warm touch that pairs well with the Desert Mountain area during the day and contrasts beautifully with the deep navy sky at night.
Unique to the home is its open lounge and multi-level pool area in the center of the estate, creating a charming private retreat for family and guests alike. Pots of foliage and pink-flowered flora add a touch of nature and unifies the home's palette, creating a picturesque landscape. Once inside, guests can see more hand-crafted details that blend both modern and rustic sensitivities. From distressed cabinetry to bright vaulted ceilings, the home boasts peak craftsmanship.
As far as accommodations go, the home includes a 16-seat theater, built-in BBQ, and a dethatched guest house. In addition, it's a foodie's paradise with an open bar, 1,200-bottle wine cellar, eat-in kitchen, and breakfast room. Each area is complete with stunning architecture that features arches, vaulted ceilings, exposed beams, and more. With world-class golf tennis and dining amenities nearby, this property has it all!
It is a pleasure to share with you these special Arizona luxury estates. If you're searching for your next home or are simply curious, feel free to view our growing catalog of glamorous luxury properties! As always, you may reach me at 480-355-8645 for all of your real estate needs and inquiries.